I've spent the last few days – in my free moments – reading Eugene Sledge's classic WWII memoir With the Old Breed at Peleliu and Okinawa. It's been on my reading list for years and now that the HBO series The Pacific is about to launch, I realized that the time to read it was now.
Sledge was a young Marine recruit who joined the 5th Marine Regiment just in time for its descent into the hell of Peleliu. Peleliu enjoys the dubious honor of being simultaneously the least remembered and one of the most horrific battles in the Pacific war. The operation to clear the small island was supposed to take but four days and instead dragged on for seventy, wrecking both the 1st Marine Division (of which the 5th Marines were a part) and the Army's 81st Infantry Division.
Sledge's detailed account – composed over many years and from notes he kept during his service – is written in plain but eloquent prose that reminds me of U.S. Grant's Memoirs but reflects not a general's viewpoint but the melancholic perspective of a Marine private.
The Battle of Peleliu marked a change in Japanese tactics from beach defense and Banzai charges to an interlocking defense in depth designed to exact the maximum number of American casualties. The Japanese would take these tactics and utterly perfect them at Iwo Jima and Okinawa. At Peleliu, Marines and soldiers under the worst conditions assaulted an enemy in deeply fortified positions in Umurbrogol Mountain – the infamous "Bloody Nose Ridge" of bitter memory. Marines and soldiers fought to the very limits of human endurance among blasted limestone cliffs in 110-degree heat, decay and indescribable filth. Everyone on the front line paid a price – in death, maiming and the type of mental anguish that time may not assuage.
For me, the Battle of Peleliu is uniquely captured by a portrait done by combat artist Tom Lea, who was present on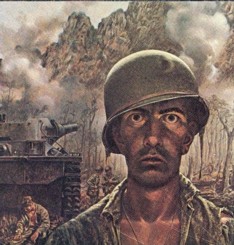 the island and saw on the faces of the survivors something that came to be called the "2000-yard stare" – the blank stare of a man who's seen too much and whose trauma continuously replays in the theater of his mind. Lea captured the look on the face of young Marine against the background of Bloody Nose Ridge. I first saw his portrait as a boy while thumbing through the old The American Heritage History of World War II. The look on the Marine's face frightened me – as well it should have. Frankly, it still does.